$5,000 Donation to Take A Hike Foundation
Actions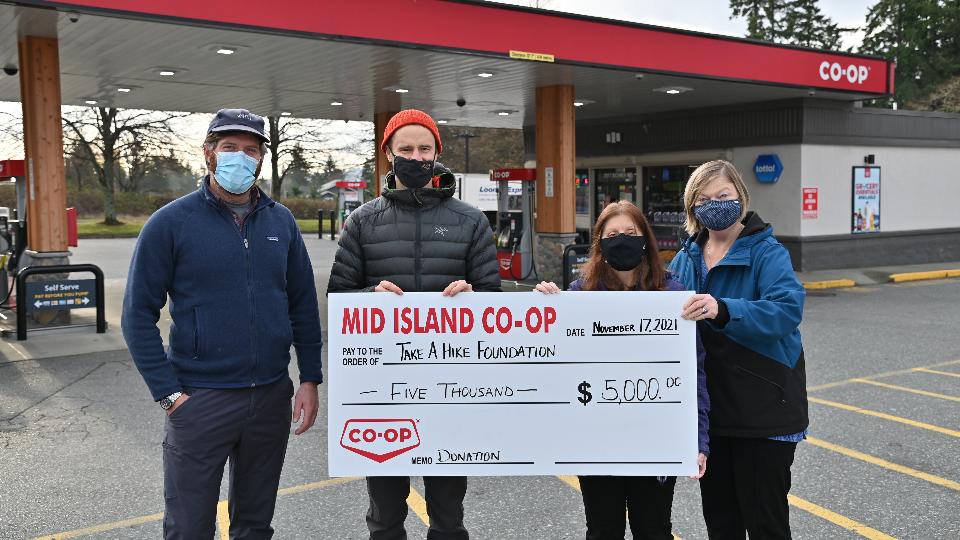 $5,000 Donation to Take A Hike Foundation
November 24, 2021
Mid Island Co-op is pleased to announce our $5,000 donation to the Take A Hike Foundation.
For full media release, please see below:

Wednesday November 24, 2021
MID ISLAND CO-OP SUPPORTS LOCAL YOUTH
Mid Island Co-op awards $5000 to Take a Hike's Nanaimo Program

For immediate release – Take a Hike empowers youth who experience vulnerability to change the trajectory of their lives with a full-time mental health and emotional well-being program embedded in an alternate education classroom
Starting in 2019, Take a Hike introduced its life-changing program to youth in the Nanaimo-Ladysmith community starting with one program but quickly pivoting to offer an additional pilot program in Duncan in response to community demand.
Impacts seen through Take a Hike's program include:
• 70% of youth reported improvements in their mental health and well-being despite the on-going pandemic
• 81% of youth reported an increase in resilience and personal competence particularly within self-management, relationship skills, and understanding their emotions.
• 93% graduation rate
Mid-Island Co-op's support will allow Take a Hike to continue supporting youth in the Nanaimo-Ladysmith and Cowichan communities and will make it possible for the pilot program in Duncan to become a full-time offering in the community. This funding will provide crucial mental health and well-being support to youth within the Duncan community and will ensure Take a Hike's impacts can make a difference in the lives of Island youth.
"We are grateful for the support Mid-Island Co-op has provided for our Nanaimo-Ladysmith and Cowichan programs. This funding will provide uninterrupted mental health and mental health support to mid-island youth." – Gordon Matchett, Take a Hike CEO.
"Mid Island Co-op is excited to support the great work the Take a Hike Foundation is doing with local youth in our community. Their support positively impacts our youth and we are proud to help Take A Hike continue their incredible programs." - Doreen Gatt, Mid-Island Co-op Board Member.
***For more information please contact:
Nav Nagra, Marketing & Communications Manager, Take a Hike at: 604-306-9749 or
nnagra@takeahikefoundation.org
To learn more about Take a Hike, visit their website: https://www.takeahikefoundation.org/
Discover more: