September Pick of the Month
Actions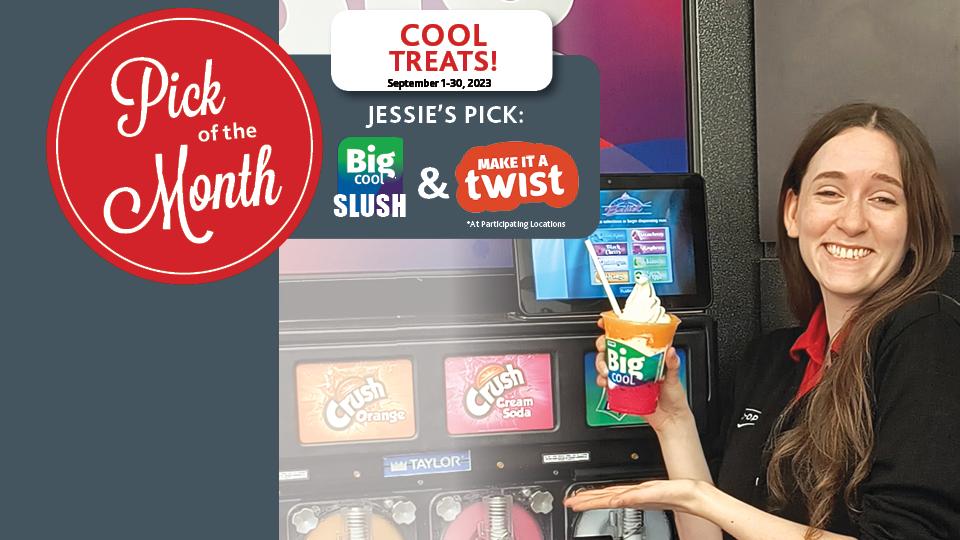 September Pick of the Month
September 1, 2023
Back to school means after school treats!
Every month, one Team Member from Mid Island Co-op will choose their favorite item from their gas bar to showcase to our members and customers! The Pick of the Month is available at all Mid Island Co-op locations.
Jessie has chosen our Big Cool Slush and the always popular Twists — the Co-op spin on a classic slush and ice cream treat! We know that heading back to school after a whole summer of adventures and relaxing can be a bummer; but at least you can reward yourself with one of these classic treats.
What is a Twist? Well, besides awesome, it's a wildly popular treat that layers slush and soft serve ice cream in a cup for a creamy, rich twist on a regular slush. It has many names and there are a few different methods to creating this treat, but to make a Co-op Twist, it's all in the layers!
How to make a Twist:
Step 1

—

Fill your Big Cool cup (any size) 1/3 with any flavor Slush you prefer.
Step 2

—

Top that with 1/3 soft serve ice cream.
Step 3 — Finish filling your cup with any slush of your choice.
Optional — Add a small swirl of ice cream on top to give it that classic look.
Step 4 — Enjoy!