Mid Island Co-op Supports Red Cross Wildfire Relief Efforts
Actions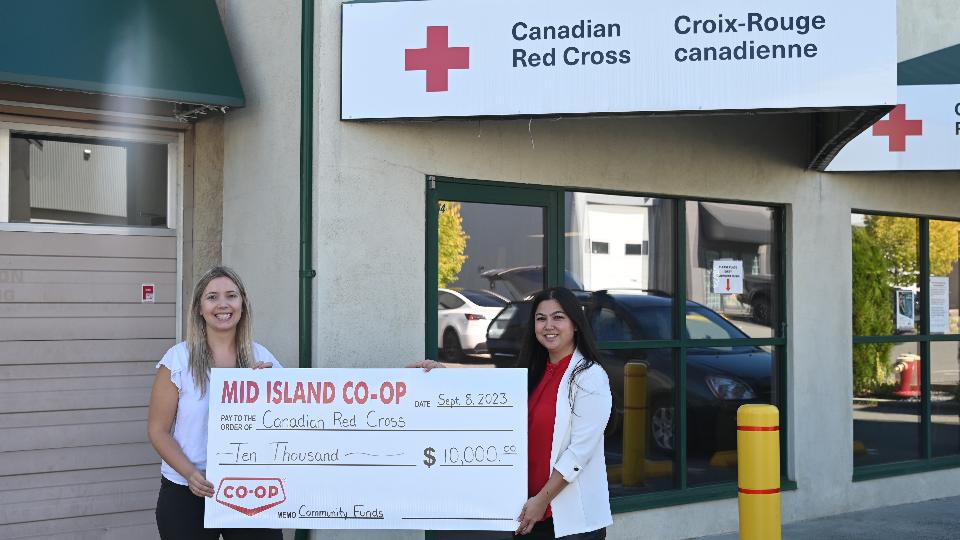 Mid Island Co-op Supports Red Cross Wildfire Relief Efforts
September 8, 2023
Generous Donations Pour In to Support Red Cross Wildfire Relief Efforts in British Columbia

In response to the devastating wildfires that have swept through various regions of British Columbia, individuals, businesses, and communities from across the nation have rallied together to extend a helping hand. The Canadian Red Cross, a renowned humanitarian organization, has launched a dedicated Wildfire Relief campaign to provide critical assistance to those affected by the ongoing wildfire crisis.
The Red Cross Wildfire Relief campaign aims to address the immediate and long-term needs of the affected communities, including emergency shelter, food, water, and emotional support for individuals and families who have been displaced or impacted by the wildfires. In addition to emergency relief, the Red Cross is committed to aiding in the recovery and rebuilding efforts that will be necessary once the fires are under control. As part of this effort, the Canadian Red Cross has set up donation channels to enable concerned citizens to contribute to the cause and make a tangible difference in the lives of those affected.
The outpouring of generosity has been nothing short of remarkable. In just a matter of days, the campaign has received an overwhelming response from individuals, organizations, and philanthropic entities, demonstrating the collective spirit of compassion and solidarity that defines Canada.
Those wishing to contribute to the Red Cross Wildfire Relief campaign can do so by visiting the official campaign
webpage
. Donations of any amount are welcomed and deeply appreciated. The Canadian Red Cross is also encouraging the public to spread awareness about the campaign by using the hashtag #RedCrossWildfireRelief on social media platforms.
As the wildfires continue to impact communities in British Columbia, the Canadian Red Cross remains steadfast in its commitment to providing support, care, and hope to those in need. Together, we can make a positive difference in the lives of those affected by this crisis.