In the Community
July 29, 2019
Social responsibility is our mandate
Supporting community is one of the seven principles that co-operatives are built on. At Mid Island Co-op, our social responsibility is as important as the services we provide to our members.

Building our community
Mid Island Co-op supports a broad range of organizations, with priority given to those projects or organizations that build long-term capacity in our community. And our responsibility goes beyond our local community – we believe we have a responsibility to do business in a way that is environmentally sound and that encourages equality.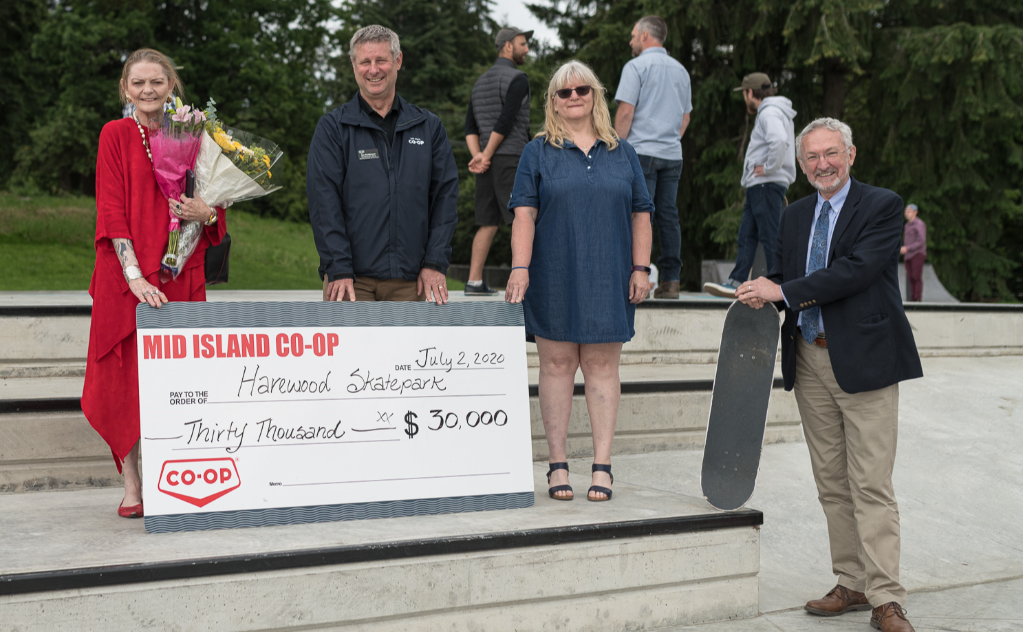 ---
Applications for Sponsorship & Funding
If you are interested in applying for Sponsorship or Funding please see the application form attached at the bottom of this page. Application are reviewed three times a year and deadlines are as follows: April 30, August 31, and December 31.
Donation Guidelines
At Mid Island Co-op we focus on five priorities: Arts & culture, Community non-profit, Health & wellness, Youth education, Youth sports & recreation
Below are just some of the amazing community organizations supported by Mid Island Co-op:
Lake Cowichan Community Services Society

Nanaimo & District Hospital Foundation


Gabriola Player Theatre Society

Big Brothers & Big Sisters of Vancouver Island


Autism Society of Central Vancouver Island

Lake Cowichan Hospital Auxiliary

Salt Spring Lady Minto Hospital Foundation

Angels Abreast Dragon Boaters

Georgia Basin Ecological Restoration Society

Arrowsmith Health Care Society

Vancouver Island Children's Book Festival

Nanaimo Harbour City Seniors

North Cowichan Fire Department


Salt Spring United Church

The Kidney Foundation Walk

Parksville/Qualicum Legion 76

Errington Memorial Hall Association

Cowichan Valley Lacrosse Association

Gabriola Lions Club

Vancouver Island Symphony

Arts on the Avenue Ladysmith

Vancouver Island Shriners

Heart For Harewood

United Way Central Vancouver Island

Society Vancouver Island Mental Health

Nanaimo Dragon Boat Festival Society

Salvation Army of Nanaimo

Dover Bay High School Athletic Department

Haven House

Island Crisis Care Society

Nanaimo Minor Baseball Association

Nanaimo Walk & Bounce for Autism


Nanaimo Brain Injury Society

Ladysmith & District Marine & Rescue Society

Habitat for Humanity Central Vancouver Island

Nanaimo Search & Rescue

Parksville Royals Baseball Club

Big Brothers & Big Sisters of VI

The Autism Society of Vancouver Island

United Way CVI

Chemainus Cultural Arts

Nanaimo Minor Hockey Association

Relay for Life – Canadian Cancer

Sayward Citizens on Patrol

Gabriola Soccer Association

Island Crisis Care Society

Lake Cowichan Midget Hockey

The Kidney Foundation

Nanaimo Clippers Hockey


Loaves & Fishes Food Bank

Chemainus Theatre Festival Society

Island Pathways- Salt Spring Island

SPCA

Parksville Food Bank

Gabriola Lions Club

Vancouver Island Symphony

Cowichan Neighbourhood House Assoc.

Heart For Harewood

Stz'uminus First Nations

Salt Spring Elementary School

Errington Therapeutic Society



Discover more: