In the Community
July 29, 2019
Social Responsibility is our mandate
Supporting community is one of the seven International Principles upon which co-operatives are built. At the Co-op, our social responsibility is as important as providing services for our members. You can see some of the things we do to support the community on our Co-op News pages.
Building our community
Mid Island Co-op supports a broad range of organizations, with priority given to those projects or organizations that build long-term capacity in our community. And our responsibility goes beyond our local community – we believe we have a responsibility to do business in a way that is environmentally sound and that encourages equality beyond our borders.
Applications for Sponsorship & Funding
Please see our Application for Sponsorship & Funding, attached at the bottom of this page. Application deadlines are as follows: April 30, August 31, and December 31.
Donation Guidelines
Mid Island Co-op focuses on five priorities:
Arts & culture
Community non-profit
Health & wellness
Youth education
Youth sports & recreation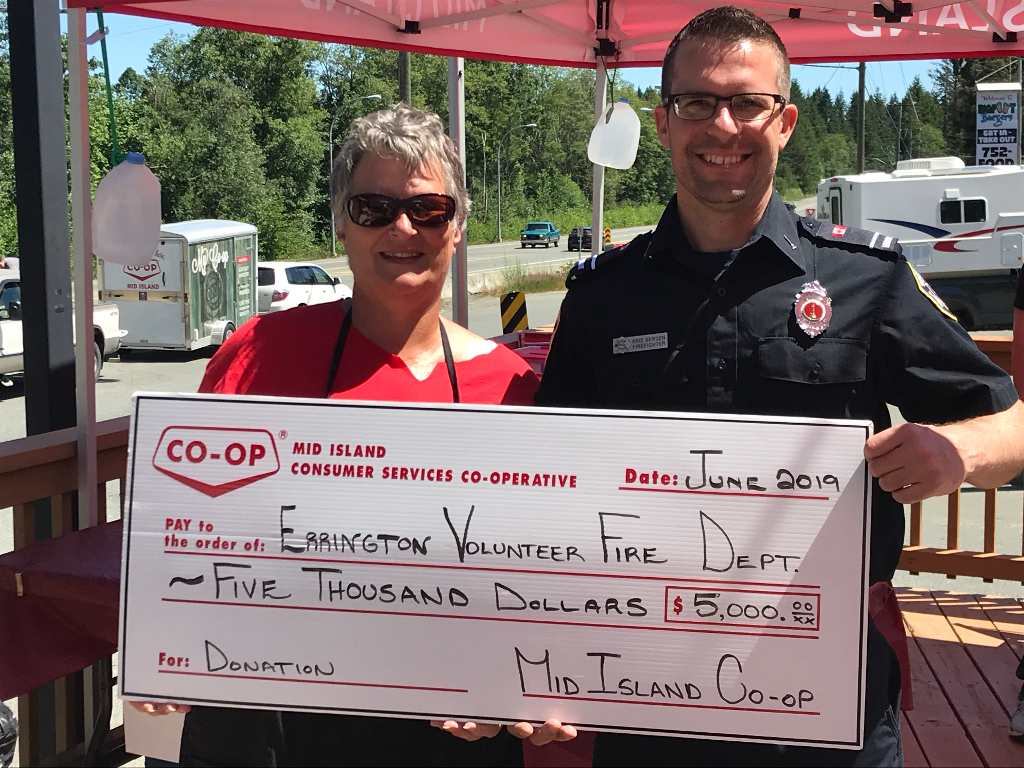 Picture left to right: Mid Island Co-op's Funding Chair Barb Peters and Lieutenant Kris Bergen from the Errington & District Volunteer Fire Department.
---
Blow are some of the amazing community organizations supported by Mid Island Co-op:
Lake Cowichan Community Services Society
Mid Island Abilities & Independent Living Society
Nanaimo & District Hospital Foundation
Gabriola Player Theatre Society
Chemainus Little Town Christmas Society
Lake Cowichan Elementary Breakfast Group
Big Brothers & Big Sisters of Vancouver Island
Autism Society of Central Vancouver Island
Nanaimo Minor Baseball Association
Oceanside Kidfest Society
Lake Cowichan Hospital Auxiliary
Salt Spring Minor Baseball
South End Community Association
Salt Spring Lady Minto Hospital Foundation
Angels Abreast Dragon Boaters
Georgia Basin Ecological Restoration Society
Arrowsmith Health Care Society
Vancouver Island Children's Book Festival
The Nature Trust of BC Brant Festival
Nanaimo Science & Sustainability Society
Salt Spring SPCA
Nanaimo Harbour City Seniors
Nanaimo Sport Achievement Awards
North Cowichan Fire Department
Salt Spring United Church
The Kidney Foundation Walk – Nanaimo
NDSS Islanders Sr. & Jr. Football Association
Parksville/Qualicum Legion 76
Nanaimo Regional John Howards Society
Errington Memorial Hall Association
Cowichan Valley Lacrosse Association
Gabriola Lions Club
Volunteer Nanaimo
Vancouver Island Symphony
Lantzville Ladies Legion #257
Nanaimo Lawn Bowling Club
Cowichan Neighbourhood House Assoc.
Arts on the Avenue Ladysmith
Vancouver Island Shriners
Mid Isle Highlanders FC Association
Heart For Harewood

Nanaimo Child Development Centre
Salt Spring Singers Society
United Way Central Vancouver Island
Island Pathways- Salt Spring Island
Society Vancouver Island Mental Health
Nanaimo Dragon Boat Festival Society
Nanaimo Community Hospice Society
The Nature Trust of BC
Salvation Army of Nanaimo
Dover Bay High School Athletic Department
Theatre One Society
Haven House
Island Crisis Care Society
Nanaimo Minor Baseball Association
Nanaimo Walk & Bounce for Autism
Nanaimo Brain Injury Society
Salvation Army
Nanaimo Science & Sustainability Society
Ladysmith & District Marine & Rescue Society
Habitat for Humanity Central Vancouver Island
Nanaimo Community Kitchens Society
Ladysmith Festival of Lights
Nanaimo Family History
YES CAMP
Island Bel Canto Singers
Nanaimo Search & Rescue
Nanaimo Football Association
Parksville Royals Baseball Club
Vancouver Island & District Power & Sale Squadrons
South End Community Association
Georgia Basin Ecological Assessments Stewardship
Nanaimo/Ladysmith School Foundation
Big Brothers & Big Sisters of VI
Vancouver Island Children's Book Festival
The Autism Society of Vancouver Island
John Howard Society
Nanaimo Chamber Orchestra
United Way CVI
Chemainus Cultural Arts
BC Summer Games – Nanaimo
The Port Theatre Society
Nanaimo Minor Lacrosse Association
Harbour City Jazz Society
Salvation Army of Nanaimo
Nanaimo Minor Hockey Association
John Barsby Football
Nanaimo Chamber Orchestra
Nanaimo & Area Land Trust Society
Nanaimo Lacrosse Association
Theatre One Society
Nanaimo Community Kitchens
Relay for Life – Canadian Cancer
Sayward Citizens on Patrol
Nanaimo Sr. Men's Curling Club
Gabriola Soccer Association
Paws Without Boarders VI
Island Crisis Care Society
Jr. & Sr. Timbermen Sr. Lacrosse
Navy League Nanaimo Branch
VI Power & Sail Squadron
Lake Cowichan Midget Hockey
The Kidney Foundation
Nanaimo Clippers Hockey
Loaves & Fishes Food Bank
Vancouver Island Exhibition
Chemainus Theatre Festival Society
Island Pathways- Salt Spring Island
Nanaimo SPCA
Parksville SPCA
Parksville Food Bank
Gabriola ICONIC Theatre Society
Nanaimo Chapter – Cystic Fibrosis
Nanaimo Rowing Club
Ballenas Whalers Footbal Society
Rotary Club of Ladysmith
Parksville/Qualicum Beach Haven Society
Nanaimo Buccaneers Jr. Hockey
Gabriola Lions Club
Volunteer Nanaimo
Vancouver Island Symphony
Lantzville Ladies Legion #257
Nanaimo Lawn Bowling Club
Cowichan Neighbourhood House Assoc.
Arts on the Avenue Ladysmith
Vancouver Island Shriners
Mid Isle Highlanders FC Association
Heart For Harewood
Nanaimo Child Development Centre
Special Olympics – Nanaimo
Child Development Centre
Cops for Cancer Tour de Rock
BC Boys Choir
Stz'uminus First Nations
Vancouver Island Exhibition VIEX
Chemainus Theatre Festival Society
Nanaimo Unique Kids Society
Citizens on Patrol
Nanaimo Clippers Hockey
Forward House Community Society
Parksville Kid Fest
Loaves & Fishes Food Bank
Nanaimo Marine Rescue Society
Nanaimo Global Film Festival
Salt Spring Elementary School
Vancouver Island Symphony
Nanaimo Tubbers Hockey
John Barsby Community School
Nanaimo SPCA
Nanaimo District Hospital Foundation
Ukrainian Cultural Society
Volunteer Nanaimo
Nanaimo Lawn Bowling Club
Theatre One
Haven Society
The Kidney Foundation
Nanaimo Lacrosse Association
Nanaimo Minor Baseball Association
Nanaimo 7-10 Club
Gabriola Responsible Trans-Isle Express
Mid Island Bluegrass Festival
The Island Consort Chamber Choir
Gabriola's Brickyard Beast 10k
Nanaimo Minor Hockey Association
Island Pathways – Salt Spring Island
Nanaimo Timerman Lacrosse
Nanaimo Equestrian Soc.
Errington Therapeutic Society
Nanaimo Wakeboard Open
Discover more: