$24,000 to Arrowsmith Search & Rescue
Actions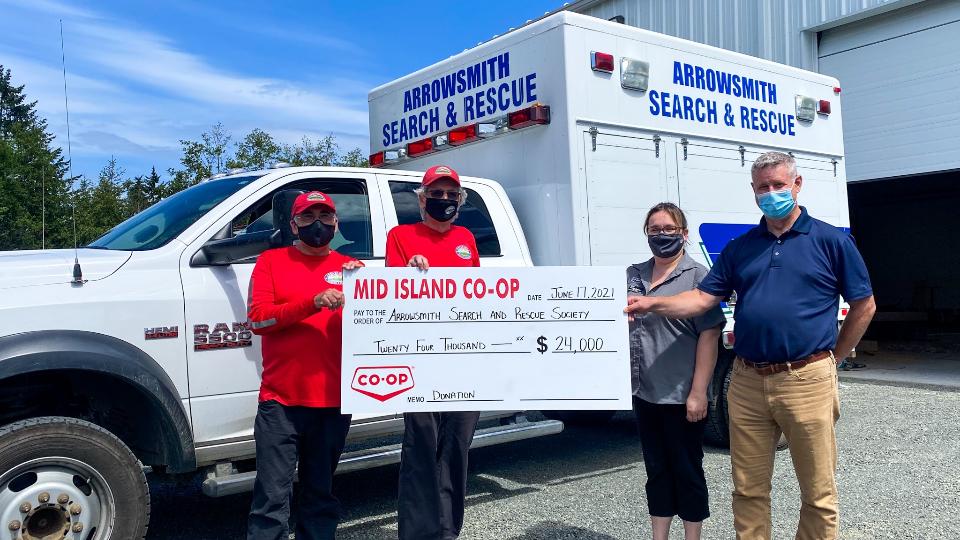 $24,000 to Arrowsmith Search & Rescue
June 22, 2021
Mid Island Co-op donates $24,000 to Arrowsmith Search and Rescue
Qualicum Beach, BC (June 21, 2021) Mid Island Co-op is proud to donate $24,000 to Arrowsmith Search and Rescue (ASAR) to assist building their new Operations Centre located beside the Qualicum Beach airport.
Arrowsmith Search and Rescue consists of a group of dedicated volunteers that provide a vital lifeline to those lost or injured in the Mid Island region of Vancouver Island for over 50 years. The area covers from Cook Creek to Lantzville, and out to the east end of Cameron Lake to Jedidiah and Lasqueti Islands.
"Arrowsmith SAR is very grateful to Mid Island Co-op for this donation. The new Operations Centre will allow us to continue growing into the future and this donation is a huge boost to it." Said Ken Neden, Operations Centre Director for Arrowsmith Search and Rescue.
The new ASAR Operations Centre will host all of the search and rescue operations as well as equipment storage and training session for the volunteers.
"We are very pleased to give this donation to the Arrowsmith Search and Rescue to help build their new Operations Centre," explained Ian Anderson, CEO of Mid Island Co-op. "Mid Island Co-op is proud to help support the ASAR volunteers so they can continue to do great work in our community."
The cheque was delivered to Ken Neden and Ken Peters of ASAR by Mid Island Co-op's CEO, Ian Anderson, and local Mid Island Co-op Gas Bar Manager, Leslie Baynes.